2021.10.04 Cultural News Group of AIT and Ilan City Public Library Visits CHM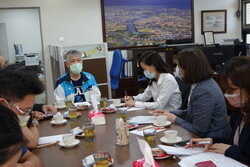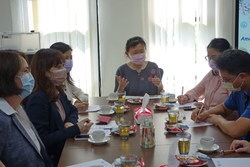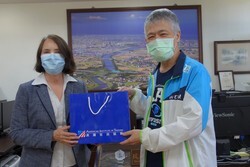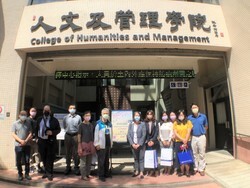 On October 4, Diane Sovereign, head of the cultural news group of the American Institute in Taiwan, and colleagues in the group, accompanied by Ms. Zhang Shujuan, director of the Yilan City Public Library, and colleagues, visitied CHM.
Prof. Feng-Jeng Lin, Dean, College of Humanities and Management; Prof. Yi-Lin Yu, Dean, Office of Internationl Affairs; Prof. Jyun-Wei Lai,Chair, the Department of Foreign Languages and Literature welcomed the guests in person.
In this visit, cultural exchange is the theme of the talks, and hoped to create more opportunities for cultural exchanges and internships can be obtained for the students of the school. At the end of the talks, the two sides took a group photo in front of the college building.