2019.12.23 Shimane University Visits CHM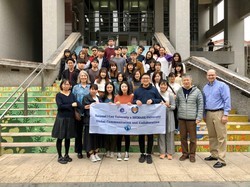 On September 22 to 25, Prof. Carmella Lieske, Prof. Scott Menking, and students from Shimane University visited CHM.
Prof. Feng-Jeng Lin, Dean, College of Humanities and Management; Dr. Hui-Ju Chen, the Department of Foreign Languages and Literature welcomed the guests in person.
The purpose of their visit is to Collaborative Short-Term Program, students though this program gains cross-cultural experience and academic exchange. They had a wonderful experience at NIU.