2019.01.12 Xiamen University Visits CHM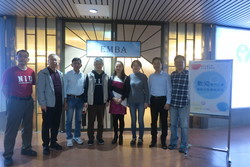 On January 12, Prof. Jian-Ping Zhu, Chair, Data Mining Research Center; Prof. Wen-Hui Feng, Deputy Vice President for Social Sciences Research Office; and Ph.D. student Chen-Lu Zheng visited CHM.
We had a welcoming meeting with them in CHM's EMBA office, the purpose of their visit is to discuss the academic exchange program between two universities. After the meeting, they visited the Department of Applied Economics and Management, the Department of Leisure Industry and Health Promotion and had a great lunch time together with these department's faculty, this was a successful cooperation meeting between both parties.